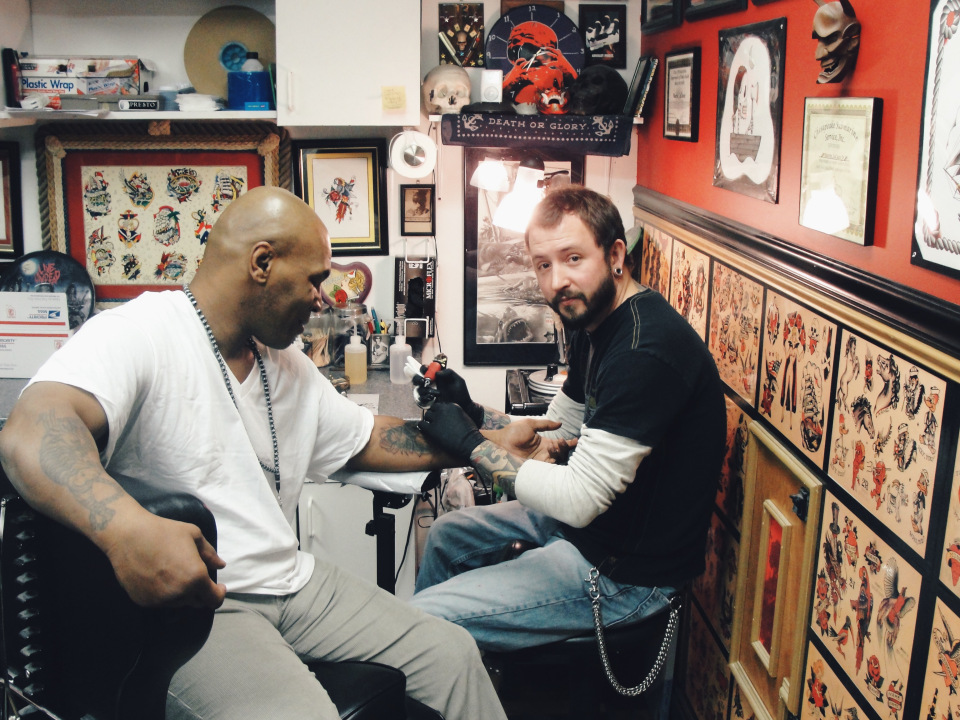 HOW TO I TAKE CARE OF MY NEW TATTOO?
Remove the bandage after 2 hours and wash with soap and water. Apply a cream or lotion every 4 hours. Do not pick or disrupt scab. Do not sunburn or soak a new tattoo. Do not re-bandage.
HOW DO I MAKE AN APPOINTMENT?
Call or stop in to book time with an artist. We require deposits of $40-$100 to book the time. Deposits are non-refundable in the event that you do not show up for your appointment for any reason. Deposits go toward the cost of your tattoo and can be made in cash or credit.
DO YOU TAKE WALK-INS?
Totally, first come first served.
DOES IT HURT?
It can be uncomfortable but it's sooooo worth it.
HOW MUCH DO TATTOOS COST?
Our minimum is $100.
WHAT FORMS OF PAYMENT DO YOU TAKE?
Who doesn't love cash? We also accept Visa, Mastercard and American Express.
ARE YOU GUYS AS AWESOME AS EVERYONE SAYS?
Yes.
DO I NEED TO BRING A DESIGN?
Reference is helpful, but not necessary. We have lots of designs for you to choose from and we also do a ton of custom work. Come in for a consultation.
WHO WILL DO MY TATTOO?
Our artists have years and years and years of experience in tattooing a wide range of styles. Check out the portfolios to request someone specific or we'll set you up with an awesome artist.
DO YOU DO COVER-UPS?
Sure- anything is possible but it all depends on what you got, what you want, where it is, etc. Come in and we can give you a better idea of the possibilities.
HOW DO YOU STERILIZE YOUR EQUIPMENT?
We sterilize our equipment with an autoclave which is monitored by an independent lab. All equipment is individually bagged prior to sterilization and opened immediately prior to the tattoo. All ink is placed in single service caps and disposed of after each tattoo.
DO YOU DO PIERCINGS?
Nope.
HOW OLD DO YOU HAVE TO BE TO GET A TATTOO?
18 years old with valid identification, no exceptions.